Encrypted Flash Drives
CE SECURE Vault Flash Drive
Superior Encrypted Flash Drive Solutions
Learn More
Buy Now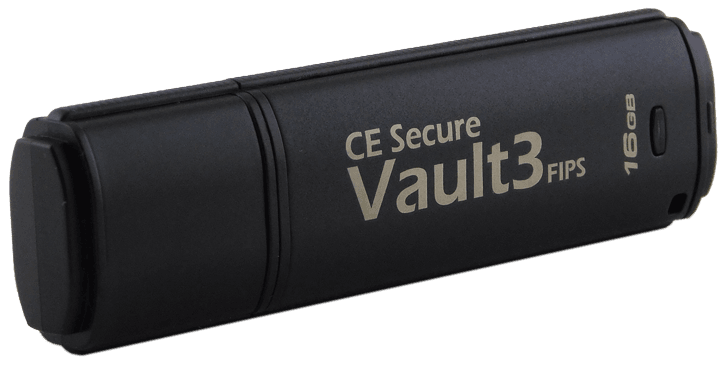 The CE Secure Flash Drive product family gives you unprecedented access control and encrypted data protection on Mac or Windows-based systems. With pre-loaded software that travels with your drive, you can set password access control to the drive that utilizes 256-bit Advanced Encryption Standard (AES) encryption. If lost, this advanced encryption system will continue to protect the data, even under the toughest conditions. CE Secure Vault is a secure USB flash drive that instantly protects all stored data automatically with hardware encryption and a strong password. You plug CE Secure Vault in and set your own password. This strong password is then the only thing that can give access to the data you store on CE Secure Vault. By switching to CE Secure Vault and replacing your unsecure memory sticks, USB keys and giveaway usb flash drives, you can start safeguarding your confidential data instantly.
Hardware Encrypted Flash Drives are Superior Security Solutions
Instantly secure portable data with always-on automatic hardware AES256 CBC encryption.
Easy-to-work-with, easy-to-set-up, flexible self-service deployment for larger organizations.
Strong, tough, built-to-last aluminum exterior.
Waterproof (up to 4ft; conforms to IEC 60529 IPX8; Product must be clean and dry before use).
No need Admin level priviledges.
Fastest startup times and the best flash storage components.
Locks down if left behind, using an adjustable timer lock.
TAA Compliant
Assembled in the USA
FIPS 140-2 Level 3 CERTIFIED
MILITARY-STRENGTH HARDWARE ENCRYPTION
The CE Secure Vault hardware controller encrypts all data using AES256-bit encryption in CBC-mode. Encryption keys are generated on board at user setup, and all communications are encrypted. CE Secure Vault is protected against autorun malware, and onboard active anti-malware is available. Once unlocked, CE Secure Vault is as simple to use as a standard USB flash drive.
QUICK STARTUP AND EASY SETUP
You can unlock a CE Secure Vault drive in as little as one second after plugging it in. The optimized configuration startup time on first use makes CE Secure Vault drives the fastest and simplest to set up. The responsiveness and speed of CE Secure Vault devices are important for a positive user experience, which is essential for achieving user acceptance of enforced and elevated security measures.
HARDWARE BRUTE-FORCE PROTECTION
CE Secure Vault offers true brute-force protection, with a password attempt counter built into the hardware in order to protect against password attacks.
HIGH-QUALITY STORAGE
CE Secure Vault has the longest life span of any USB flash drive, thanks to built-in ECC and wear leveling. The ECC hardware on CE Secure Vault ensures that transfer speeds are high and that accuracy and life span of stored data are maximized.
NO INSTALLATION, NO ADMIN RIGHTS REQUIRED
CE Secure Vault devices do not require any software installation or admin rights.
COMPACT, ROBUST AND EPOXY-SEALED
CE Secure Vault devices are designed to endure wear and tear, and they fit even where port space is minimal. The circuitry is sealed with epoxy, giving CE Secure Vault superior weather resistance and making the hardware completely tamperproof.
PROTECTION & TIMER LOCKDOWN
The manageable Timer Lockdown feature ensures that forgotten or misplaced drives do not cause data breaches. CE Secure Vault reminds users upon logout if their drive is still inserted, and it alerts the user if there have been previous faulty login attempts on the drive.
LONG-LASTING INVESTMENT
CE Secure Vault drives are fully upgradeable, so when new features are released or when there are changes in operating systems or the threat landscape, CE Secure Vault drives never miss a beat, making them a long-lasting investment.
OS AVAILABILITY
CE Secure Vault is compatible with the Mac operating system, extending its availability to both PC and Mac users. With traditional Mac users, including architects and media industry executives, CE Secure Vault will ensure that concepts and designs that provide a competitive edge are always protected.
ENCRYPTION

AES256-bit Encryption
FIPS 140-2 level 3 certification available

SUPPORTED OPERATING SYSTEMS

MS Windows 10, 8.1, 8.0, 7, Vista, and XP
macOS

INCLUDED ENCRYPTION SOFTWARE

Authentication
Management client

TRANSFER RATE

INTERFACE

USB 3.0 compliant and 2.0 compatible

CAPACITIES

OTHER

LED activity status indicator
TAA compliant
Assembled in the USA
5-year warranty